System Requirements
1 gigahertz (GHz) or faster processor

256 megabyte (MB) RAM

130 MB available hard disk space

3D class Video Card with 32 MB of memory or higher
Comments
I LOVED this game! I like the ability to customize that this game affords. Space shooters are a lot of fun, and I like the playability of this version. I will say I was a little confused at first on what some of the options did, but I enjoyed it once I figured them out. Thanks a lot!
Jim

Definitely worth the download. The ship buying/weapon upgrading was a little confusing at first, but I get it now. Great replay value!
Jorge
Read more...
AstroMenace for Windows, macOS and Linux
Hardcore 3D space scroll-shooter with spaceship upgrade possibilities.
Space is a vast area, an unbounded territory where it seems there is room for everybody, but another force thinks differently. Hordes of hostile creatures have crawled out from the dark corners of the universe, craving to conquer your homeland.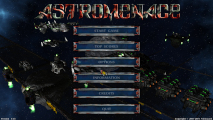 Their force is compelling, their legions are interminable. However, humans wont give up without a final showdown and have sent their best pilot to fight back. These malicious invaders chose the wrong galaxy to conquer and you are to prove it! Go ahead and make these alien aggressors regret their insolence.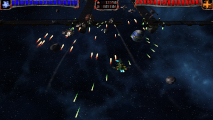 AstroMenace stands out with hardcore gameplay that absorbs you completely as you repel the relentless attacks of diverse adversaries and dodge hails of projectiles. Throughout the game you will face many cunning opponents, each having unique tactics and strategies, and all trying to give you a rough time in their own peculiar way. So you'll need quick-wits and a steady hand in order to evade their attacks and survive the onslaught.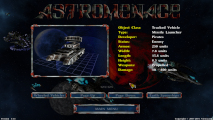 To demonstrate your pre-eminence against the growing forces of evil you will have to constantly improve your ship and armaments. During battle, money is collected from the remains of enemy vessels and from minerals hidden inside meteorites. Using this money you can purchase new weaponry and equipment from a diverse list. You can carry out the destruction with your favorite guns, and switch them any time you like. Experiment on different strategies against particular units!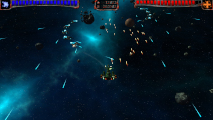 What's more, brave pilots can switch from arcade to simulation control style, along with many other difficulty customisation features. Choose one of the 22 unique space ships to control, each with its own unique attributes.
AstroMenace is graphically unique. The quality of animation along with special effects is stunning, and with all its picturesque backgrounds adding brilliance to the visuals, the game is true eye-candy. The process of causing total annihilation has never looked so fascinating!
With AstroMenace you will experience the most vivid vertically scrolling shooting experience available. With non-stop arcade fun, hardcore gameplay, and wonderfully crafted 3d graphics, give a crushing rebuff to the overwhelming alien's forces and become a space hero, now!